Calling all math enthusiasts and feline lovers alike! Get ready to add a touch of purrsonality to your wardrobe with our Cat I Love Math Hawaiian Shirt. This unique and eye-catching shirt is the perfect gift for men and women who appreciate the beauty of numbers and the charm of our furry friends.
Crafted with the utmost care, this Hawaiian shirt features a vibrant and playful design. Our adorable feline friends are seen geeking out over equations and formulas, showcasing their love for math just like you do! The high-quality fabric ensures ultimate comfort, making it ideal for both casual outings and special occasions.
Whether you're a teacher, student, or simply have a passion for mathematics, this shirt is sure to make a statement. Stand out from the crowd and let your love for math shine through with this one-of-a-kind piece. It's not just a shirt; it's a conversation starter that will spark interesting discussions and connect you with like-minded individuals.
This Cat I Love Math Hawaiian Shirt is suitable for both men and women, making it a versatile choice for anyone who appreciates a dash of whimsy in their wardrobe. Whether you pair it with shorts, jeans, or even a skirt, this shirt will add a touch of fun and personality to any outfit.
Don't miss out on the opportunity to express your love for math and cats simultaneously. Treat yourself or surprise a math-loving friend with this delightful gift. Embrace your inner geek and let the world know that math and cats truly make the purrfect combination with our Cat I Love Math Hawaiian Shirt.
This is a cute item for the holiday. Buy a great gift for someone you love. Get yours or make a great gift for this holiday.
Processing Time: 3 – 5 business days
Estimated shipping time in the US: 7-14 business days.
Estimated shipping time in EU & UK: 10-13 business days.
Estimated shipping time in CA: 10-15 business days.
Shipping service: DHL
Cat I Love Math Hawaiian Shirt Gift For Men And Women Details:
This all-over print Hawaiian shirt ensures quality, fit, and comfort. This custom shirt ensures quality, fit, and comfort. The woven polyester fabric is lightweight, breathable, and resistant to shrinking and wrinkles. The button closure and collar are simple and comfortable.
100% woven polyester fabric, offers outstanding durability, insulation, and wrinkle resistance.
Moisture-wicking.
Full button-down closure.
The color could be slightly different between on the screen and in practice.
2 style, No Pocket and has a patch Pocket on the left side chest to conveniently store keys, phones, or wallets
Unisex Style
Some of the Cat I Love Math Hawaiian Shirt Gift For Men And Women photos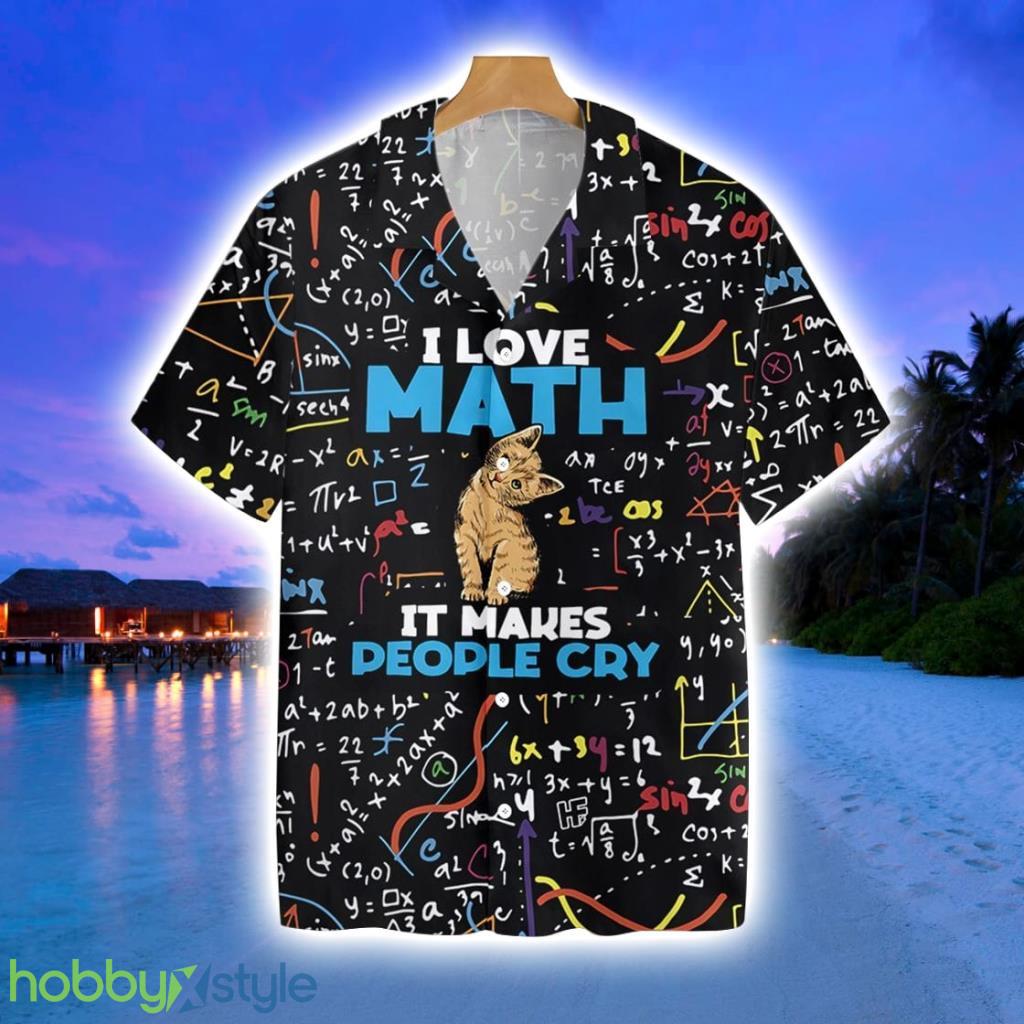 HAWAIIAN SIZE CHART
——————-
Note: Due to manual measurement, there will be an error of +/-0.3-0.5 cm. Please be understanding.
To find the size that fits you best please check our size chart carefully!