The Celtic Cross Irish By Blood Hawaiian Shirt is the perfect fusion of two rich cultures, creating a truly unique and captivating garment. Crafted with meticulous attention to detail, this shirt is a remarkable gift for both men and women who proudly embrace their Irish heritage and love the vibrant spirit of Hawaiian fashion.
Featuring a striking Celtic Cross design, this shirt beautifully showcases the intricate symbolism of Irish ancestry. The symbol represents faith, strength, and unity, making it a cherished emblem among those with Irish roots. Combined with the laid-back and colorful Hawaiian shirt style, this garment effortlessly captures the essence of both cultures.
Made from premium-quality materials, this shirt ensures utmost comfort and durability. The soft fabric feels gentle against the skin, while the expert tailoring guarantees a flattering fit for all body types. Whether you're strolling along the sandy beaches or attending a festive gathering, this Hawaiian shirt is an excellent choice to showcase your Irish pride in style.
Versatile and eye-catching, this shirt is suitable for various occasions. Wear it casually with a pair of shorts or jeans for a relaxed day out, or dress it up with chinos for a more polished look. Its vibrant colors and intricate Celtic Cross design are sure to turn heads and spark conversations wherever you go.
The Celtic Cross Irish By Blood Hawaiian Shirt is more than just a piece of clothing; it's a statement of your cultural heritage and a celebration of diversity. Whether you're purchasing it for yourself or as a thoughtful gift for a loved one, this shirt is bound to be cherished for years to come. Embrace your Irish roots and embrace the aloha spirit with this exceptional garment.
This is a cute item for the holiday. Buy a great gift for someone you love. Get yours or make a great gift for this holiday.
Processing Time: 3 – 5 business days
Estimated shipping time in the US: 7-14 business days.
Estimated shipping time in EU & UK: 10-13 business days.
Estimated shipping time in CA: 10-15 business days.
Shipping service: DHL
Celtic Cross Irish By Blood Hawaiian Shirt Gift For Men And Women Details:
This all-over print Hawaiian shirt ensures quality, fit, and comfort. This custom shirt ensures quality, fit, and comfort. The woven polyester fabric is lightweight, breathable, and resistant to shrinking and wrinkles. The button closure and collar are simple and comfortable.
100% woven polyester fabric, offers outstanding durability, insulation, and wrinkle resistance.
Moisture-wicking.
Full button-down closure.
The color could be slightly different between on the screen and in practice.
2 style, No Pocket and has a patch Pocket on the left side chest to conveniently store keys, phones, or wallets
Unisex Style
Some of the Celtic Cross Irish By Blood Hawaiian Shirt Gift For Men And Women photos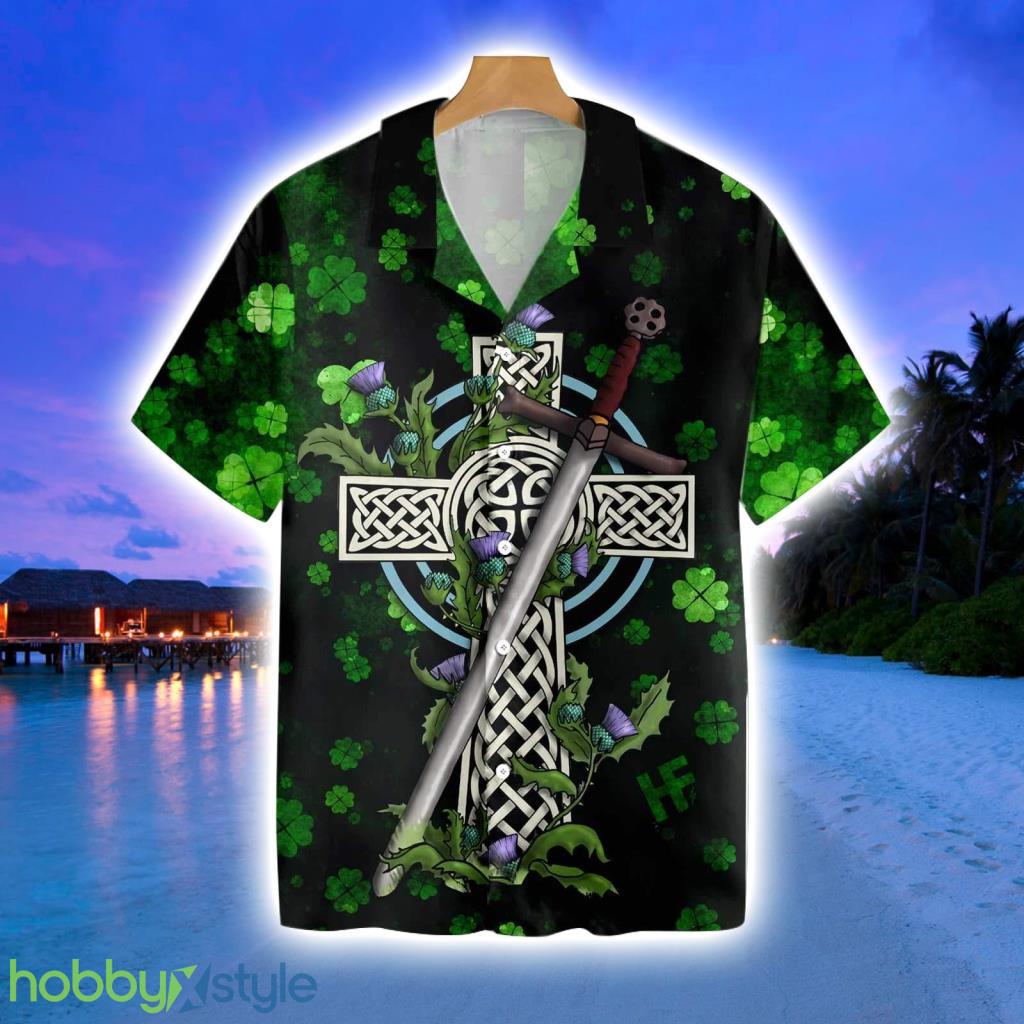 HAWAIIAN SIZE CHART
——————-
Note: Due to manual measurement, there will be an error of +/-0.3-0.5 cm. Please be understanding.
To find the size that fits you best please check our size chart carefully!