Step onto the field of your dreams with our FC Barcelona Custom Name Red Logo Sneakers Max Soul Shoes. These shoes are designed to give you the ultimate comfort and style when you step out on the field. The vibrant red color is a perfect match for the iconic FC Barcelona logo, making it a must-have for any fan of the team.
The shoes feature a custom name design, allowing you to add your name or your favorite player's name to the shoes. This personalized touch makes them a unique addition to your collection, and they're perfect for showing off your love for the team.
The Max Soul technology provides superior cushioning and support, ensuring you're comfortable for hours on end. This feature also helps to absorb shock and prevent injuries, making these shoes an excellent choice for athletes of all levels.
The sneakers are made with high-quality materials, ensuring that they're durable and long-lasting. The non-slip sole provides excellent traction, allowing you to move quickly and confidently on the field. The shoes are also lightweight, making them easy to wear and perfect for long matches.
In addition to their functional features, these FC Barcelona Custom Name Red Logo Sneakers Max Soul Shoes are also stylish and trendy. They can be worn on the field or off, making them a versatile addition to your wardrobe. The red color and FC Barcelona logo are eye-catching and stylish, making them a great choice for any outfit.
In conclusion, if you're a true fan of FC Barcelona, you need to add these custom name sneakers to your collection. They're comfortable, durable, stylish, and personalized, making them the perfect choice for any athlete or fan. So why wait? Get your pair today and step out onto the field in style!
These shoes are perfect for someone who loves the outdoors and are always on the go. Not only are these shoes comfortable, but they are perfect for someone like me who needs a shoe that is durable!
FC Barcelona Custom Name Red Logo Sneakers Max Soul Shoes Information
Style: Air Jordan 13 with 2 types of shoe soles: Black and White
Upper skin can print patterns
Hidden laces perforated webbing morder beautiful and firm
Constructed with rubber sole wear-resistant and antiskid
TPU buckle upscale environmental protection and wear resistance, no customizable
High poly insole, breathable, and deodorant
AIR JORDAN 13 SIZE CHART:
Some of the FC Barcelona Custom Name Red Logo Sneakers Max Soul Shoes photos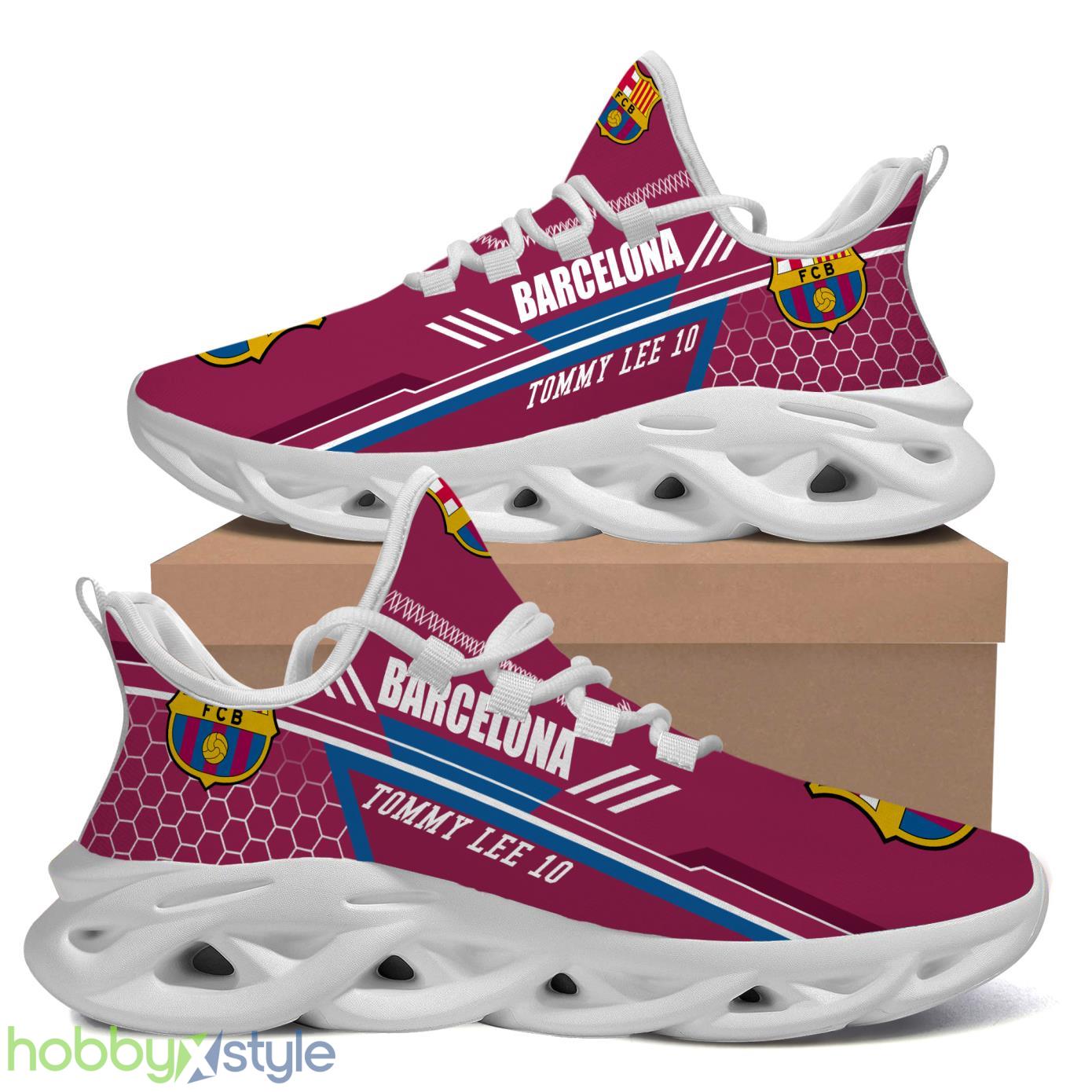 PLEASE NOTE:
Manual measurement of the size please allow 0.3-0.5cm error
As a result of the production batch, the light intensity photography effect will have the color difference
SHIPPING TIME OF THESE AIR JORDAN 13 SNEAKERS
Time of production: 10 – 15 business days
Shipping time: 7-14 days.
TOTAL = Production time (10-15 days) + Shipping Time (7-14 days) = 17-29 days
The total time to receive this FC Barcelona Custom Name Red Logo Sneakers Max Soul Shoes is 17-29 days at the regular time. Please consider!
(*) might be delayed 2-4 days due to the peak season, but we will try our best to fulfill orders as fast as we can.